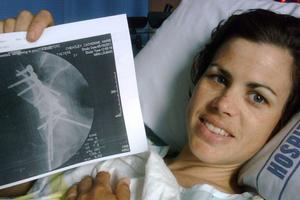 Cath Cheatley in hospital with her xray after her operation last year. --
Cheatley stores her bike to take up new role
Friday, 15 June 2012, 12:50 PM
By
BikeNZ
Beijing Olympic cyclist Cath Cheatley, who suffered serious injuries from a crash last year, has called a halt to her international career in the meantime.

The 29-year-old from Wanganui will not be lost to the sport, as she takes up a fulltime role as one of BikeNZ's regional development coordinators.

Cheatley harboured hopes of returning to the sport to qualify for the London Olympics after suffering multiple fractures to her hip in a crash, racing in Taranaki last October.

Cheatley faced rehabilitation from surgery after shattering her acetabulum and top of the hip. Despite good progress and a return to cycling, she has been unable to make sufficient gains to be a competitive international cyclist again.

"When the numbness didn't leave and I couldn't get the power through the leg, I just had to be realistic that not only was London out of the question, but riding competitively again is a long shot," Cheatley said.

"I put all of my energy into rehab in the hope I might make it but I needed a miracle to reach top form and push for a medal in London. The reality is that I have the rest of my life to live with family and friends and I can't risk it all on one race. I just hope the good feeling I had about London will transfer to my husband's track team.

"I can ride my bike but I can't generate the power I need to go fast. What I like about cycling is racing and I really do miss it. You don't know how much you love something until you can't do it."

With her husband Dayle, currently BikeNZ's women's endurance track coach, moving to the sport's new base at the Avantidrome in Cambridge next year, Cheatley has taken up a new role in the Waikato-Bay of Plenty region.

"After making the tough decision on my competitive career, with the amazing support from my family, I saw this position advertised and thought maybe it was meant to be. Now I have the opportunity to encourage and help others to enjoy the sport that I love so much."

While lost to the elite end of the sport as a rider, BikeNZ is delighted to have enticed Cheatley to its administrative ranks. In this role, her focus will be on coordinating linkage between schools, clubs, centres and other pathways with the ultimate goal to grow cycling in the region.

"It's great to see an athlete of Cath's calibre have such a desire to give back to the sport," said BikeNZ development manager Amy Taylor.

"She is extremely passionate about sharing her knowledge and getting others involved in cycling."
This is an important position within BikeNZ's structure as this particular region is set to house the new 'Home of Cycling' facility.

"We're excited to work with Cath. She is going to be a great asset to our development team."

Cheatley is one of the country's most successful female riders. A professional in the USA since 2008, Cheatley won a bronze medal in the points race at the 2007 world track championships and finished in the top-10 on the road at the 2009 world championships in Italy. She was crowned the 2010 US National Road Series champion and is a three time winner of the national road title.

She competed in the Beijing Olympics and the Melbourne and Delhi Commonwealth Games and her international victories included the Tour of Wellington in 2006, the Fitchburg Longsjo Classic overall, stages at the Nature Valley Grand Prix, Cascade Tour and Tour of Gila as well as the Altoona Criterium during her outstanding 2010 season.

"This new role is quite exciting and will definitely provide me with a different type of challenge.

"Cycling is getting bigger and bigger. It has so many health benefits and at the top end New Zealand is doing well across all the disciplines of the sport. We have the people, terrain and conditions for cycling to be a huge sport in terms of participation and recreation as well as high performance.

"It's a positive step forward with the Home of Cycling becoming a hub for our sport and I want to be part of that."

Cheatley has taken up her position, although she will take time out to head to the USA later this month to assist with the preparations in Pennsylvania for the BikeNZ junior endurance track squad as they prepare for August's world championships in Invercargill.
Powered by infonews.co.nz
(
Source
)
Latest News
Trotman and Napier win Benchmark Homes Festival of Cycling criteriums


Sunday, 8 December 2013

Reta Trotman and Grayson Napier were impressive winners in the elite women's and men's criteriums today at the Benchmark Homes Festival of Cycling in Christchurch in completely contrasting styles. More >
Jamie Nicoll and Rosara Joseph win Urge 3 Peaks Enduro


Sunday, 8 December 2013

Jamie Nicoll, of Dunedin, emerged victorious at the 2013 Urge 3 Peaks Enduro, despite close competition from professional riders Anton Cooper and Justin Leov, both of Christchurch. More >
Williamson reverses last year's Benchmark Homes Festival of Cycling result


Saturday, 7 December 2013

Sophie Williamson reversed last year's result in the Benchmark Homes Festival of Cycling's elite women's 90 kilometre road race, beating last year's winner Reta Trotman in an exciting sprint finish today in Waipara, North Canterbury. More >
Dislocated shoulder no barrier at Tinman this weekend


Friday, 6 December 2013

Ever heard of the one arm paper hanger? Well, how about the triathlete who will this weekend look to overcome a serious shoulder injury and line up in the Craigs Investment Partners Tinman Triathlon at Mount Maunganui? More >
Champions and Ports of Auckland support IRONMAN 70.3 Auckland


Friday, 6 December 2013

Inaugural winners Christian Kemp and Annabel Luxford will defend their titles in next month's IRONMAN 70.3 Auckland, which doubles as the official Asia Pacific Championship. More >
Tri NZ High Performance gets specialized in bike partnership


Friday, 6 December 2013

Just days after announcing a new five year partner to the sport in .kiwi, Triathlon New Zealand has unveiled a new partner to the High Performance Programme (HPP) with Specialized Bicycles joining forces with New Zealand's leading triathletes. More >
Villumsen headlines a strong woman's field for Benchmark Homes Festival of Cycling


Thursday, 5 December 2013

World Championship multi medallist Linda Villumsen headlines a strong woman's field in this weekend's Benchmark Homes Festival of Cycling that features the 90 kilometre Waipara Classic road race on Saturday and criterium racing on Sunday. More >
Tony Dodds takes out first place at the New World International Triathlon in Hong Kong


Wednesday, 4 December 2013

New Zealand elite triathlete Tony Dodds took out first place in the Men's Elite category of the New World International Triathlon in Hong Kong on Sunday. More >
Trev Pedals and Around Brunner Cycle Ride changes hands


Wednesday, 4 December 2013

Dale Coulter of Challenge Events Ltd is pleased to announce the sale and purchase of Around Brunner Cycle Ride by Carol and John Moore of CJM'S Events Ltd (CJM'S). More >
Team Budget Forklifts 2014


Wednesday, 4 December 2013

After cementing themselves as one of the most dominant teams in the Australian National Road Series over the last 2 years, Team Budget Forklifts is set to continue on it's upward tradejectory with the release of it's 2014 roster. More >
Brett Bellchambers new JetBlack 24 Hour Solo Champion


Wednesday, 4 December 2013

The JetBlack 24 Hour mountain bike endurance race was held at the iconic Australian Botanic Garden Mount Annan last weekend. More >
Rotorua Bike Festival 2014 - road cycling headliners


Wednesday, 4 December 2013

One of the North Island's favourite cycle challenges will headline some top road cycling action at the 2nd Rotorua Bike Festival, in February. More >
Mount ready to host opening .Kiwi Tri Series Event


Tuesday, 3 December 2013

The .kiwi Tri Series gets underway at Mount Maunganui this weekend (Sunday) with the traditional season opening Craigs Investment Partners Tinman launching a new look and yet familiar series of triathlons that engage participants througho More >
Entries open for 2014 Queenstown Bike Festival


Tuesday, 3 December 2013

Six major events headline the 2014 Queenstown Bike Festival (April 12-20) with predictions for even larger fields as the festival moves into its fourth year with a growing reputation as a premier New Zealand biking event. More >
Challenge Roth voted 'Best Race of the Year 2013'


Tuesday, 3 December 2013

For the third time in a row, DATEV Challenge Roth has won the title of "Best Race of the Year" at Europe's prestigious Sailfish Night of the Year. More >
Challenge Almere-Amsterdam to host 2014 ETU European Long Distance Triathlon Championships


Monday, 2 December 2013

Today the European Triathlon Union (ETU) and Challenge Family announced Challenge Almere-Amsterdam will host the 2014 ETU European Championship Long Distance Triathlon Championships. More >
Young cyclists gear up to take title


Monday, 2 December 2013

Fourteen students from across the region will don their helmets and hit the roads of Palmerston North next Friday 6 December in a bid to become Central District's Young Cyclist of the Year. More >
Petræus and Hauschildt take victories in Phuket paradise


Monday, 2 December 2013

Rasmus Petræus (DEN) showed his strength over the middle distance taking his second Challenge Family title at Challenge Laguna Phuket today in 4:05:06 while world champion, Melissa Hauschildt (AUS) took out the women's title in 4:30:29 in perfect tropical race conditions. More >
Entries open for 2014 Queenstown Bike Festival


Monday, 2 December 2013

Six major events headline the 2014 Queenstown Bike Festival (April 12-20) with predictions for even larger fields as the festival moves into its fourth year with a growing reputation as a premier New Zealand biking event. More >
Opportunity cost the economics of sports science


Monday, 2 December 2013

The next season of racing is upon us. Are you looking for the edge to fine tune your racing legs? More >
Extra thrills for Skyline Sprint Warrior 2014 event


Sunday, 1 December 2013

A special practice run has been added to the second annual Skyline Sprint Warrior downhill mountain bike event, ensuring keen riders will have even more opportunities to ride the mountain's trails. More >
Strong sprint prevents double header in Taupo for Northey


Sunday, 1 December 2013

The chance of back to back wins for Mike Northey, winner of last year's Contact Lake Taupo Cycle Challenge was lost on a tight sprint to the finish line in this years Holden Mens Classic Elite Race. More >
Pros line up for Challenge Wanaka


Friday, 29 November 2013

With entries closing at midnight tomorrow (Saturday), Challenge Wanaka has already attracted an exceptional line up of pro athletes ready to tackle one of the world's toughest iron distance triathlons. More >
Stroke & Stride Race #2


Friday, 29 November 2013

Windy afternoons in Auckland provide not everyone's favourite swim and run conditions however it is does suit some. Most likely those that subscribe to the adage 'when the going gets tough, the tough get going' and once this day's arduous racing was done it was a podium regular stepping up for his first race win and an athlete with a decade of racing under her belt securing a second ever win. More >
Challenge Wanaka launches volunteer drive with free training


Friday, 29 November 2013

Challenge Wanaka has launched a campaign to recruit hundreds of volunteers needed for its annual triathlon festival between 15-18 January by offering free training in first aid and traffic management. More >
More news:
1
2
3
4
5
6
7
8
9
10
11
12
13
14
15
16
17
18
19
20
21
22
23
24
25
26
27
28
29
30
31
32
33
34
35
36
37
38
39
40
41
42
43
44
45
46
47
48
49
50
51
52
53
54
55
56
57
58
59
60
61
62
63
64
65
66
67
68
69
70
71
72
73
74
75
76
77
78
79
80
81
82
83
84
85
86
87
88
89
90
91
92
93
94
95
96
97
98
99
100
101
102
103
104
105
106
107
108
109
110
111
112
113
114
115
116
117
118
119
120
121
122
123
124
125
126
127
128
129
130
131
132
133
134
135
136
137
138
139
140
141
142
143
144