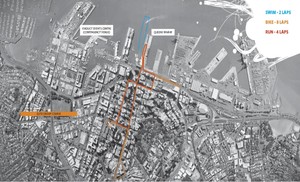 Elite group course - Auckland City --
New Zealand triathletes delighted at grand final news
Monday, 28 June 2010, 3:15 PM
By
Triathlon NZ
New Zealand's leading triathletes have reacted with delight and anticipation that Triathlon New Zealand has secured the 2012 Dextro Energy ITU Triathlon World Championship Series Grand Finale.
Tri NZ confirmed the news at a press conference on the Auckland waterfront today. The Grand Final is the most prestigious event and highlight to the 8 race World Championship Season and will come to Auckland from 18-22 October 2012, bringing with it a host of international stars and thousands of international visitors.

2009 world number three Andrea Hewitt believes it will capture the imagination of an already triathlon friendly nation.

"To have the 2012 World Champs finale in Auckland will be amazing, not only for us as competitors but for the spectators and watching public as well. Everyone loves Triathlon in New Zealand, so it will be great to host the best race of the season in front of an appreciative home crowd."

Double Olympic medallist Bevan Docherty echoed Andrea's sentiments.

"New Zealand is a very passionate Triathlon country. We're got a very strong history obviously with Hamish (Carter) winning gold and with my two Olympic medals, it is a fairly well recognised sport already.

"Plus it's going to be a downtown street circuit in the city of Auckland which will be great for athletes and spectators; it's going to be a fun time."
Palmerston North's Kris Gemmell is especially excited about the course planned for the event, and hinted at something of a farewell to home fans.
"The course they're proposing up and down Queen St and running through the main CBD is just going to be amazing. It's such a vibrant city and obviously a beautiful country.

"I'm really looking forward to maybe finishing my career running down Queen St with the New Zealand singlet on and the fern on my chest."
Triathlon New Zealand National Coach Greg Fraine emphasised that it is also a chance for our emerging talent to perform at home.

"This event will not only provide a great platform for the proven performers in our sport but it will give the next group of emerging talent the chance to race at home in familiar surroundings and conditions.

"This event is one that should act as a great motivator for all currently in our High Performance Groups and those that are knocking on the door and who knows, it might well attract prospective talent that we haven't yet identified.

"New Zealanders will see some world class triathlon at home and if all goes to plan, a number of Kiwis will be to the fore in both men's and women's events. Opportunities like this in an athlete's career are rare and must be capitalised on."
Auckland will host the four days of triathlon, with activity focused on the waterfront and CBD with transition, finish line and spectator viewing areas based on Queens Wharf. The elite athletes will take on a course that will include a tough climb to the top of the CBD on each of the 8 bike laps and a steep descent down Queen Street to the turnaround on Queens Wharf, making for superb watching live or on TV worldwide.

As well as catering for the elite and competitive age group triathletes in their own World Championship races, the festival event will also host a corporate teams, kids and beginners events.

In a further boost for Auckland and the profile of the sport, the event will have a dress rehearsal in the hosting of an ITU World Cup event in 2011, with details to be confirmed.
Furthermore the event will leave a legacy for the sport and the City of Auckland with an annual corporate team triathlon event planned with participation the key driver, encouraging all New Zealanders to pursue a healthy lifestyle through triathlon. Further details of this legacy event will be released in due course.
Powered by infonews.co.nz
(
Source
)
Latest News
Multisport festival attracting athletes of all descriptions


Thursday, 23 May 2013

Inspirational comebacks, elite stars, national champions, first-timers and fun-chasing families  - this year's Thermatech 3D Rotorua Multisport Festival has got it all. More >
Young North Canterbury rider top 10 in Mountain Bike World Cup


Tuesday, 21 May 2013

Young North Canterbury mountain biker Ben Oliver had an impressive start to his international career with a top-10 finish in the opening round of the UCI World Cup. More >
Archbold scores first win for new pro team


Tuesday, 21 May 2013

BikeNZ Olympian Shane Archbold has taken no time to strike for his new professional team with victory in stage two of the An Post Ras Tour of Ireland today. More >
Bozzone bounces back with race record win in Florida


Monday, 20 May 2013

The 2008 IRONMAN 70.3 World Champion Terenzo Bozzone has put his injury problems behind him with a comeback win in Florida today. More >
Brook MacDonald 2013 The Search for Scree


Monday, 13 May 2013

New Zealand Downhill Mountain Bike Champion Brook MacDonald searches for some new and challenging scree. More >
Sisson looking for swim solutions to back his blistering run speed


Monday, 13 May 2013

Ryan Sissons knows what he is capable of and his 10km run split at the ITU World Triathlon Series race in Yokohama yesterday again hinted at it, but the 24 year old Aucklander is again cooling his heels after a less than satisfactory swim. More >
McIlroy holds on for top ten on a 'flat day' in Yokohama


Sunday, 12 May 2013

Kate McIlroy made the most of a bad day at the office when finishing 9th at the latest round of the ITU World Triathlon Series in Yokohama today, a result that leaves the Wellington athlete 7th in the overall series standings after three races. More >
Redemption for Hubbard


Saturday, 11 May 2013

It was redemption today for Tom Hubbard from the Homestyle Cycling Team as he won the third round of the Benchmark Homes Elite Cycling Series, the 133 kilometre the Parry Field Lawyers-Ocean Ridge Classic. More >
Rotorua named among Red Bull's eight 'Best Bike Trails on Earth': The only trail destination in the Southern Hemisphere


Friday, 10 May 2013

Rotorua's world-renowned mountain bike trails have won global praise from Red Bull as one of the eight top mountain biking destinations on earth – the only place awarded such recognition in the Southern Hemisphere. More >
Strong BikeNZ line-up for prestigious tour in Netherlands


Friday, 10 May 2013

BikeNZ will field an impressive eight-strong team to contest the prestigious Olympias Tour in the Netherlands starting on Monday (NZ time). More >
Kiwis aim high in Yokohama


Friday, 10 May 2013

Kate McIlroy, Ryan Sissons and Martin van Barneveld will line up on Saturday at the latest round of the ITU World Triathlon Series in Yokohama, race three in the eight race series to decide who will be crowned World Champion in 2013. More >
Impressive women's field largest ever for third round of a Benchmark Homes Elite Cycling Series


Thursday, 9 May 2013

Touring professional and multiple world championship medal winner Linda Villumsen, Olympian Lauren Ellis and Sophie Williamson, who has signed with US based women's pro team Vanderkitten, head the largest women's field ever assembled for a Benchmark Homes Elite Cycling Series round on Saturday, the Parry Field Lawyers-Ocean Ridge Classic. More >
BikeNZ sprint coach Justin Grace resigns to put family first


Wednesday, 8 May 2013

BikeNZ will be on the lookout for a new sprint coach after the resignation this week by national coach Justin Grace. More >
Olympic champion looks back to rowing after Ironman


Monday, 6 May 2013

Five-time world champion rower and London Olympic gold medallist Mahe Drysdale is looking forward to his return to rowing. More >
Kiwi Wins Iron Distance Challenge Taiwan


Sunday, 5 May 2013

Kiwi triathlete Dylan McNeice has won the inaugural Challenge Taiwan triathlon over the iron-distance. More >
Nicky Samuels Race blog – St Anthony's 5150 race report


Wednesday, 1 May 2013

Hello from Tampa airport, This week I have had an interesting week of travel. More >
Long distance racing returns to Asia with Challenge Taiwan


Wednesday, 1 May 2013

On 4 May, international long distance triathlon will return to Asia with the inaugural Challenge Taiwan, introducing the Challenge Family race experience to Asia. More >
Olympic rowing champion takes up his Ironman challenge


Monday, 29 April 2013

Five-time world champion and London Olympic gold medal rower Mahe Drysdale takes on arguably his toughest test when he competes in IRONMAN Australia at Port Macquarie this weekend. More >
Queenstown biking community 'thrilled' with new Rabbit Ridge Bike Resort


Monday, 29 April 2013

Queenstown's Rabbit Ridge Bike Resort got the thumbs up at the soft launch yesterday (Saturday 27 April) when members of the local biking community got to check out the newly-constructed trails. More >
Tri NZ National Youth Camp a big hit with all concerned


Monday, 29 April 2013

Triathlon New Zealand this weekend hosted 23 of the most talented young athletes from around New Zealand at a National Youth Camp in Cambridge, the home of the National High Performance Centre. More >
Australian Michael Troy wins fast 150km stage in Thailand's Tour of Friendship


Monday, 29 April 2013

Troy, a 24 year old pro cyclist from Sydney, slipped off the front of the peloton early in the stage and motored away to a good gap and never looked back as he tucked into time trial mode to ride the strong peloton off his wheel. More >
Thailand: Lee Rodgers wins Opening Prologue


Monday, 29 April 2013

Professional rider Lee Rodgers has won the opening 7km prologue in a very fast time of 7.02 over 7km. More >
Underwood defends Tour of New Zealand title


Saturday, 27 April 2013

Dan Underwood defended his individual Tour of New Zealand title today, beating Tim James in a close and exciting criterium in the shadow of the Beehive in the grounds of Parliament House in Wellington. More >
James completes North Island domination to set up Wellington finale


Friday, 26 April 2013

While Tim James completed his domination of the North Island in the Tour of New Zealand, defending solo champion Dan Underwood could only manage third today on the South Island's final stage. More >
Fast pace as wild descent heads into Day Two on Clutha


Friday, 26 April 2013

The inaugural Wild Descent kayak race on the Clutha River is heading into day two of the four-day competition after a mass start above the Albert Town bridge yesterday morning. More >
More news:
1
2
3
4
5
6
7
8
9
10
11
12
13
14
15
16
17
18
19
20
21
22
23
24
25
26
27
28
29
30
31
32
33
34
35
36
37
38
39
40
41
42
43
44
45
46
47
48
49
50
51
52
53
54
55
56
57
58
59
60
61
62
63
64
65
66
67
68
69
70
71
72
73
74
75
76
77
78
79
80
81
82
83
84
85
86
87
88
89
90
91
92
93
94
95
96
97
98
99
100
101
102
103
104
105
106
107
108
109
110
111
112
113
114
115
116
117
118
119
120
121
122
123
124
125
126
127
128
129
130
131
132
133
134